What is Facebook live chat?

Facebook live chat is a chat system, which allows you to instantly communicate with your website visitors via instant messaging. The chat simply appears within their browser window, and your customer/visitor can chat with an operator by typing into the live chatbox. Facebook live chat is only available for business accounts, so you have to make a business account first.

Why use Facebook live chat?

Facebook live chat is a quick and easy solution which offers a faster communication between seller and buyer. It will help you avoid a huge amount of customer service through the phone, because you will support your customers via messenger on your website.
Some things you should know before you begin:
If you want to follow this guide it is important that you choose "Danish" as your language, otherwise this guide will not make sense. If you don't want your Facebook Business account to be in Danish, we recommend you contact Facebook's own support.
How to implement Facebook live chat?
To add Facebook live chat's integration to Meeshop, you simply start by creating a facebook account for your business (Facebook Business account). https://business.facebook.com
Click on the right corner on "Create account".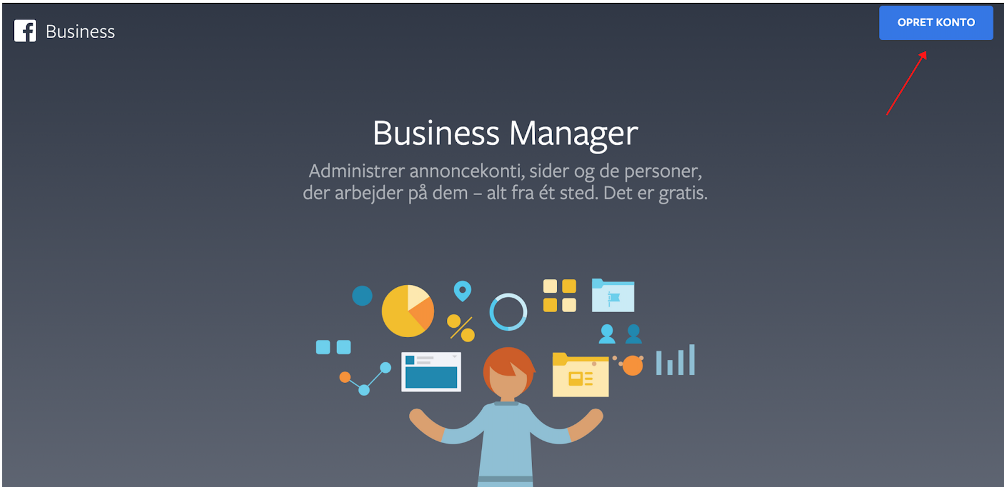 Then start creating your Business Manager account. Fill in your business name (write your webshop's public name as this is going to be public on Facebook), then add your name and finally your business mail and then at the bottom press "submit".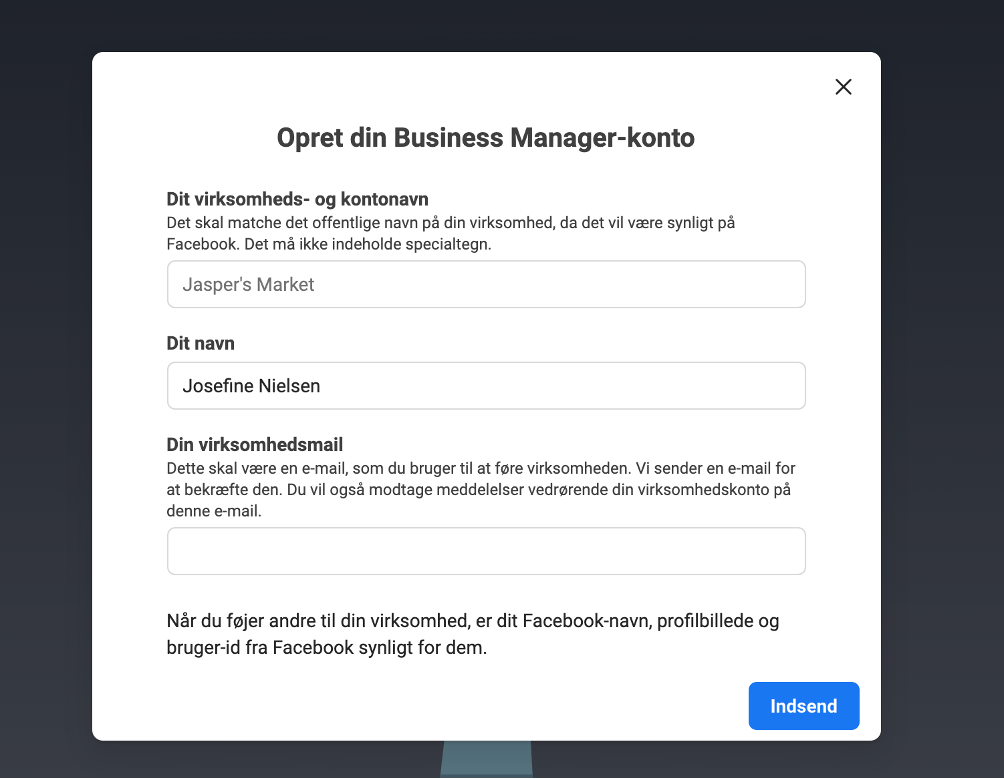 Now you have created your account, and have to connect the account to Facebook live chat. Press "Settings".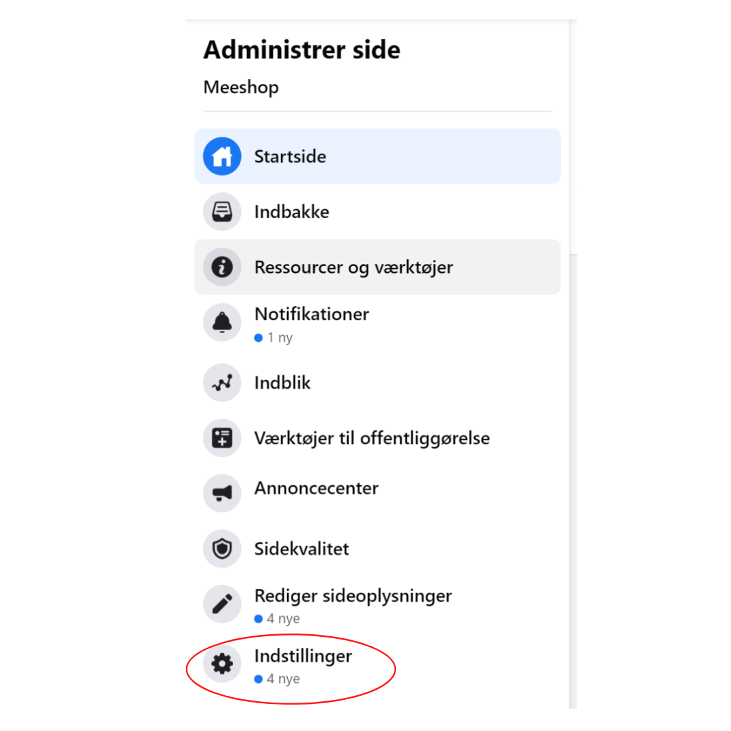 Then you will be directed to "Side settings", here click on "Messages".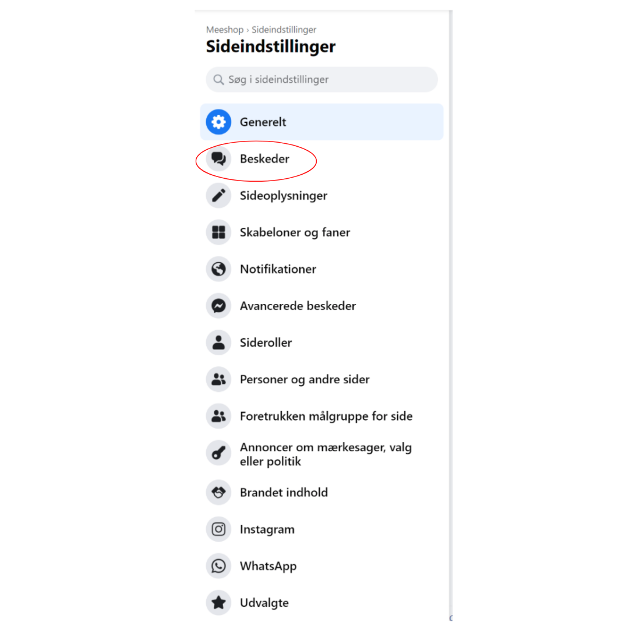 Then under "Add messenger to your website" click on "get started".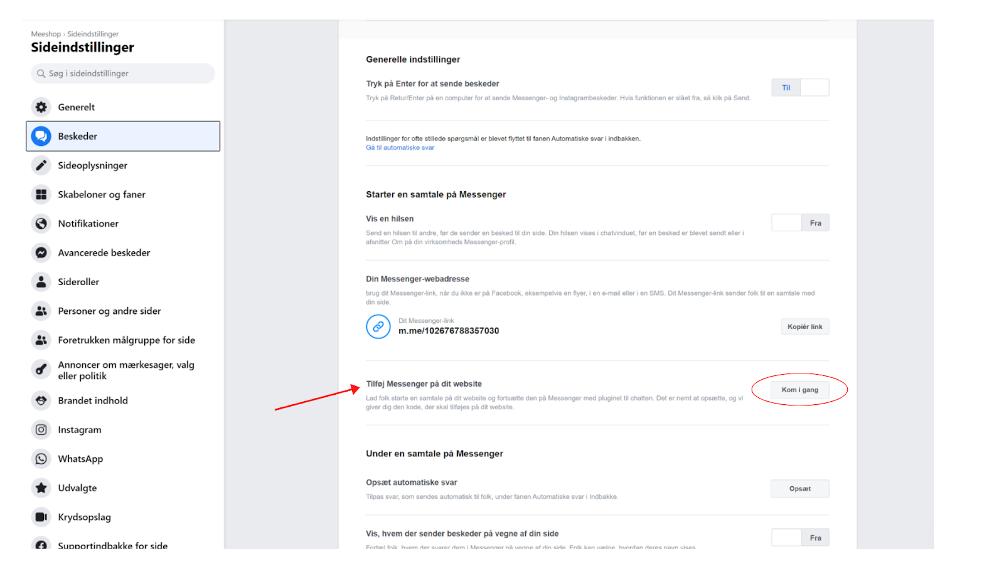 Now move on by clicking "Next" in the bottom right corner.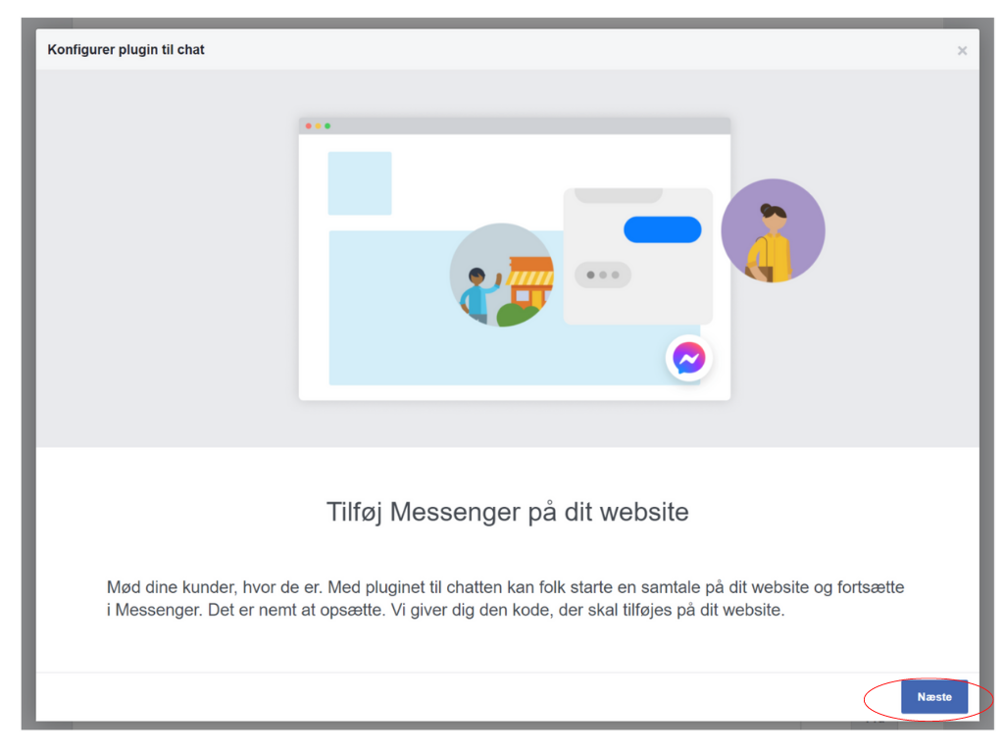 Firstly choose your language and then your greeting.

Lastly click ON to "guest chat". Then move on by clicking "Next" in the bottom right corner.
Just move on from the next page. You don't have to choose your color in this program, you will just do it in Meeshop.

Move on by clicking "Next" in the bottom right corner.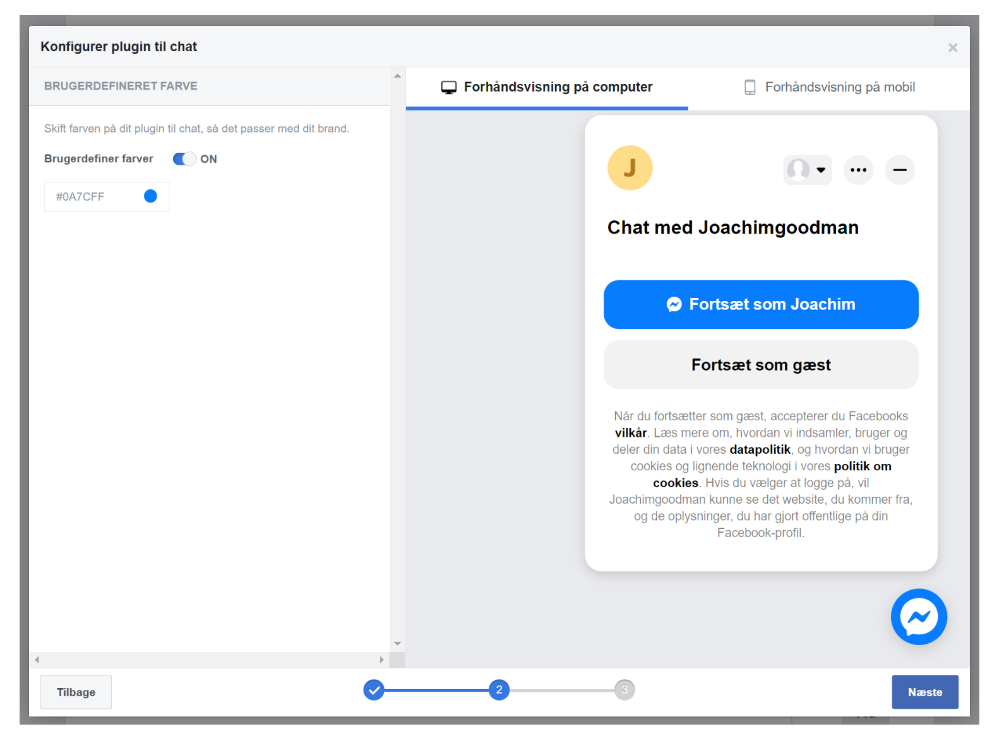 Now you are almost ready to connect the integration to your Meeshop account.
Add your website name/ domain under "Website domain". Then be sure that "I add the code to my website myself" is chosen under "Installer code".
Scroll down in box with the code to the left, at the bottom you will find your page-id, which you will need to add this integration to Meeshop.
How to connect Facebook Live Chat to Meeshop?
Start copying your webshop's domain name. Go to your webshop and copy paste your domain. Paste your domain as it is under website domain and press save.

Now copy the code (numbers after page-id).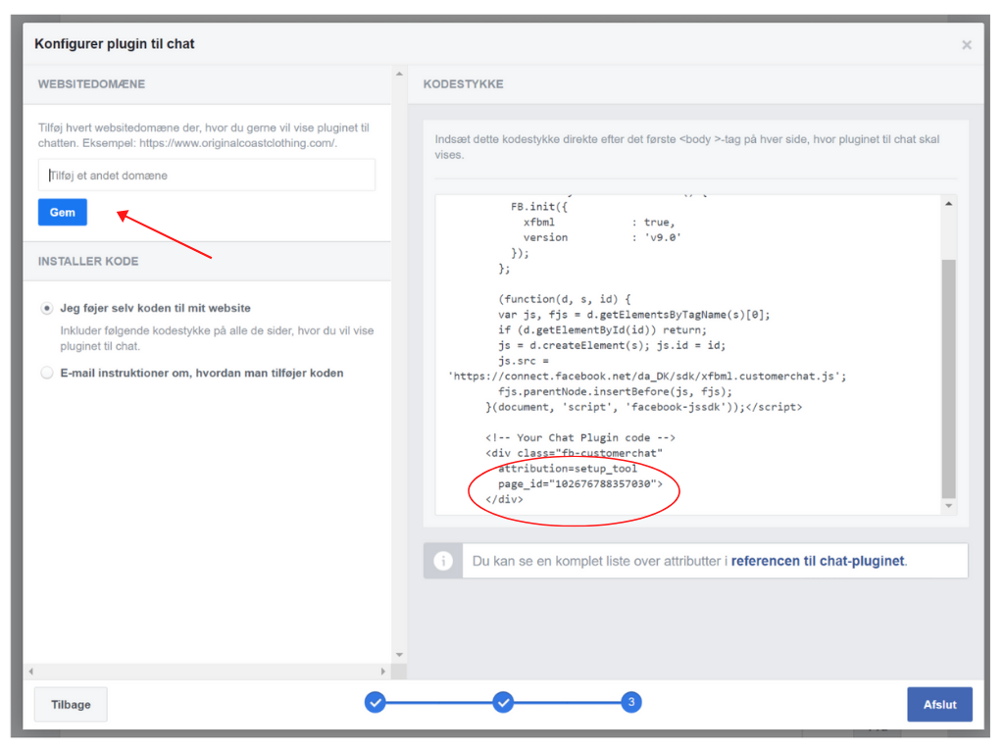 Now log into your Meeshop account and go to your shop administration, click on "shop" at the bottom of the menu bar in the left corner, and then "Integrations".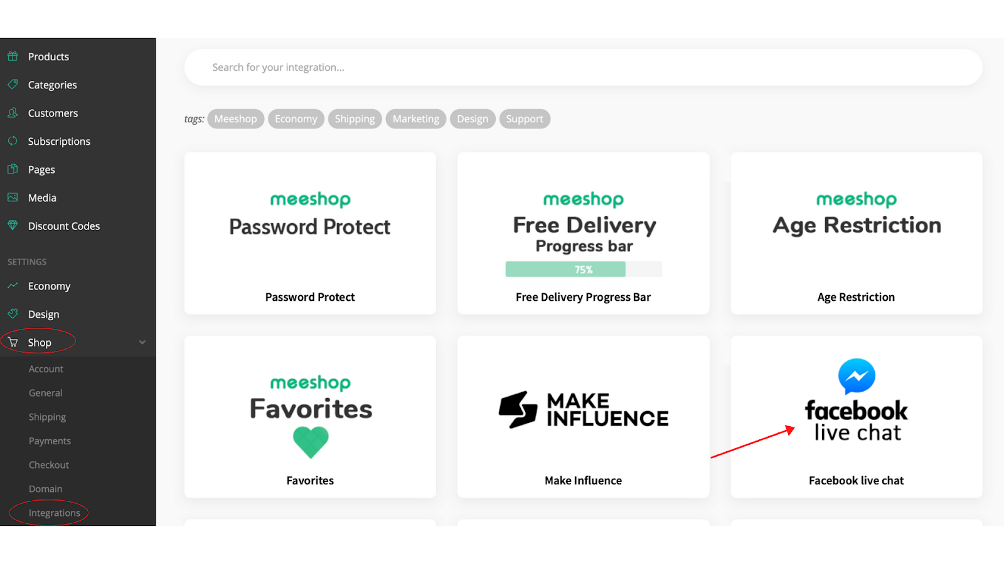 Choose Facebook live chat and now choose your Logged in Greeting and insert your Page-ID and select a color. Then click "Install integration."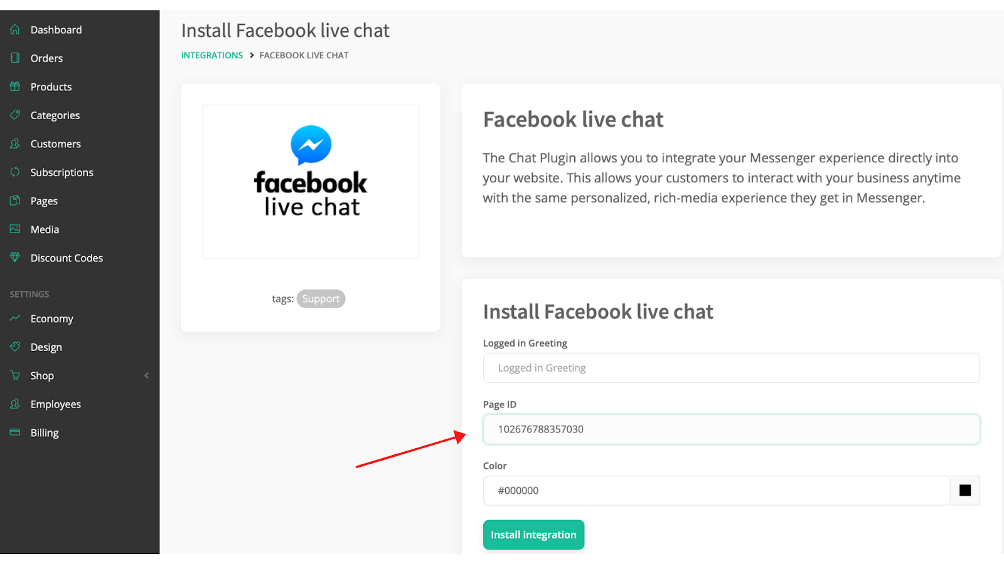 Congratulations, Facebook Live chat is now installed! From now on, you can easily communicate with your customers through Messenger.
If you need help with creating, managing or need more information about Facebook Live contact Facebook support directly.